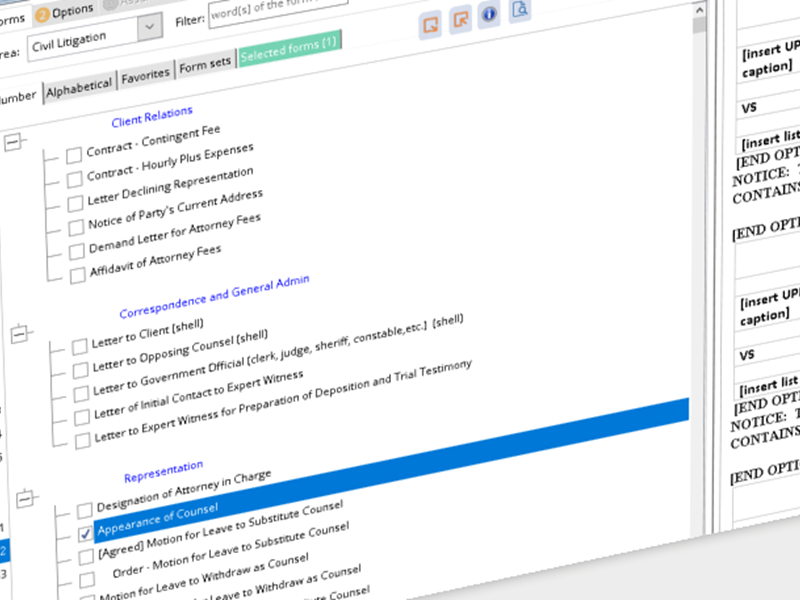 TXdocs Basic®
Document Assembly
The TXdocs Basic® document assembly software is designed from the ground up to be simple and efficient. It provides basic document assembly templates and PDF forms for 12 practice areas. All templates are automated to dramatically cut document preparation time and reduce errors.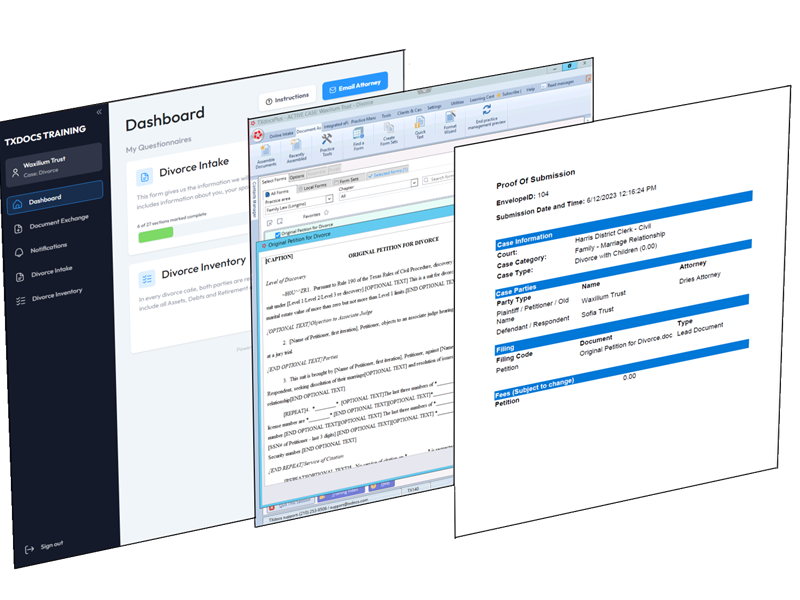 TXdocs Standard®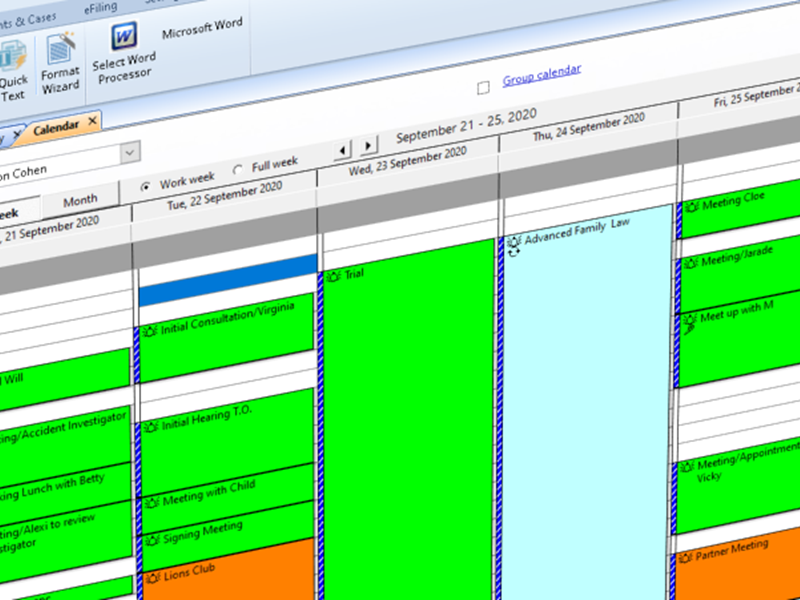 TXdocsPlus®
          Document Automation                                            +                                  Practice Management
TXdocsPlus® combines our TXdocs Standard® document automation system with a comprehensive practice management suite. It includes billing, calendaring, and case management, as well as a phone app that gives you access to your calendar and contacts list and lets you enter billing slips right on your phone.
∇ Scroll below to view product comparison ∇
TXdocs provides document assembly templates and pdf forms for 12 practice areas. All templates and forms are fully automated to dramatically cut document preparation time and reduce errors.
More information
TXdocs' Online Intake system provides a secure portal where your clients can enter their case intake information as well as detailed information for tasks such as divorce and probate inventories, financial statements and initial disclosures. And, when your client has finished providing their information, you can download it directly into TXdocs for use throughout their case.
TXdocs' eFiling provides the final step in document automation. This new system is the first truly new eFiling software in years. It is designed and programmed to be simple to use and efficient. Because it is integrated into TXdocs, you no longer have to go to a completely different system and then waste time finding your documents, converting them to pdf, re-typing names, addresses, cause numbers, etc.
More information
TXdocs Basic
TXdocs Standard
TXdocsPlus
Document Automation
12
12
12
Unlimited cases
Comprehensive set of software tools
Format customization Using a wizard
Online version Access from anywhere
Classic version Run from your desktop
Practice management
Billing Includes LawPay integration
Calendaring
Case/Contact Manager
Conflict Checker
Deadlines Calculator & Manager
Phoneslips Manager
Task management
Additional benefits
Unlimited support
Personalized training

Stuck in a long-term Thomson Reuters Form Builder or ProDoc contract?

Call us about using TXdocs for free until your current contract expires at 210 253-9506. We can even assist you with notifying Thomson Reuters of your cancelation at renewal time.

TXdocs Basic
TXdocs Standard
TXdocsPlus
Document Assembly
Document Automation
Practice Management

- with -

Document Automation
/ month
/ month
/ month
Subscribe
Subscribe
Subscribe

TXDOCS STARTER PACKAGE

If you need to absolutely keep your monthly fee as low as possible, we have a starter package with a lower monthly fee AND a small one-time fee for each case for which you want to assemble documents. This is a good option if you expect to have no more than 1 or 2 new cases per month.

Call for details

210 253-9506

For customized subscription plans based on practice/case, call 210 253-9506.
Several subscription models available
We provide great products and services for a very reasonable monthly charge without the hassle of a long term contract. All subscriptions include training, updates and technical support.
Choose how to use it
Desktop or Cloud
The software solutions are virtually identical regardless of whether you choose desktop or cloud.
Classic (desktop)
The classic version of TXdocs® is installed on your Windows PC or on your office server. It requires a Microsoft Vista or newer operating system (no Windows XP). All subscriptions include 1 user license -- meaning any 1 person in your firm can use it. For situations where more than 1 person in your firm needs to access your TXdocs account at the same time, additional licenses are available as follows: $17.50 + tax for TXdocs (Document Automation only) subscriptions, and $22.50 + tax for TXdocsPlus (Document Automation + Practice Management) subscriptions.
Anywhere (cloud)
This is your version if you want to use TXdocs® on-the-go anywhere you have an internet connection. It runs in your internet browser regardless of whether you are using a PC or a Mac. TXdocs has elected to use a technology that allows us to use the same software in our cloud solution as we use in our desktop solution. That means you no longer have to give up the power and features of a desktop solution in order to get the benefits of our cloud solution. More information
Focus Makes All the Difference
Created in Texas for Texas Attorneys
Because TXdocs is designed to be used exclusively by Texas attorneys, we are able to tailor it to work the way we practice law in Texas. If you don't think this is such a big deal now, you will once you see the innovations that are possible by focusing only on Texas.
Prefer to make an informed decision? We're Happy to Oblige!
No-Risk free trial
Try TXdocs' Fully Functional 14-Day Free Trial
Access thousands of Texas specific forms and all program functionality, including our Online Intake and NEW eFiling system.

Training and technical support services included.

Preserve data when converting your trial to a subscription.

No payment information required until you're ready to subscribe.

No long-term "gotcha" subscription contract.

3-month money back guarantee.