We give you a 14-day free trial, no strings attached. We want you to be comfortable with TXdocs before subscribing. If you're unable to try out TXdocs during your trial period, please contact us at service@txdocs.com or 210-253-9506 to request an extension.
TXdocs offers a no-risk free trial. We only request payment information when you're ready to subscribe.
We want you to be comfortable with TXdocs before you subscribe, so your free trial gives you access to everything you could potentially have in a subscription. During your trial, you are initially defaulted to TXdocs Standard (document automation) which gives you access to thousands of Texas specific forms, supporting tools, Online Intake and eFiling -- plus training and technical support. At any time during your trial, you have the option to preview our Practice Management capabilities which are included in TXdocsPlus (document automation + practice management).
All data created during your trial will be preserved when you convert your trial to a subscription.
TXdocs does not lock you into any selections. During your trial, you can turn on/off the "preview practice management" option in the menu bar, and you are able to request changes to the number of licenses by contacting service@txdocs.com or calling 210-253-9506. You also have the opportunity to make changes when you are ready to subscribe by selecting the Subscribe Now button on the menu bar within your trial account.
TXdocs does not lock you in to a long-term contract. All TXdocs subscriptions are charged monthly and are continuous from initial subscription until cancellation by written notification. You can cancel your subscription at any time, for any reason by notifying us during business hours prior to your next monthly charge. View our cancellation policy
Yes! If you are new to TXdocs and complete a live online personalized tour during your free trial period, you will receive a 25% discount on your first 3 months if you should decide to subscribe. Sign up for your free trial training HERE.
To update your firm's name, please contact service@txdocs.com to request the name change or call us at 210-253-9506.
To update your firm's address and/or primary contact information, once you have accessed your TXdocs account:
Go to "Settings" on the top menu bar
Then select "Firm Settings"
Under TXdocs Account, select "Firm Information"
Click "Edit firm information" button
Input your new firm address and/or primary contact information
Click "Submit" button
Click "Save and close" button
Once you have accessed your TXdocs account:
Go to "Settings" on the top menu bar
Then select "Firm Settings"
Under TXdocs Account, select "Payment Method"
Click "Edit payment options" button
Input your new payment information
Click "Update payment info" button
Click "Save and close" button
To change your subscription with TXdocs (from TXdocs to TXdocsPlus, from One practice area to All practice areas, from Per Case to Standard, etc.), please contact service@txdocs.com or call us at 210-253-9506.
To view your current subscription information or to modify the number of licenses for your subscription, once you have accessed your TXdocs account:
Go to "Settings" on the top menu bar
Then select "Firm Settings"
Under TXdocs Account, select "Subscription Details"
To change the number of licenses, click "Modify number of licenses" button
Input the number of licenses desired
Click "Submit" button
Click "Save and close" button
When you log onto txdocs.com or anywhere.txdocs.com you will see the address bar starts with "https:". That is your visual indicator showing that all data being transmitted between your computer and our server is encrypted and secure. We use the latest SSL (Secure Socket Layer) technology to enforce this security. 

On our server, your data is maintained in a separate database that is created for your firm. Access to this database is never shared with anyone not logged in under your firm's license. 

Even your separate database is also password protected with a password that is unique to your firm only. 
If you are a single user, make sure that you do not have an active session open on another PC. If you do, end that session and then try to log in. If there are multiple users in your firm, locate someone who may be logged in and not using it, or you can always contact us to add additional user licenses.
Alternatively, you can select the button take over on the "All licenses are used up" screen and then select an account you want to overtake.
If you are still having issues then contact our Tech Support at support@txdocs.com or call 210-253-9506 and ask for Tech Support.


This means your Password and/or Username are incorrect. Typically it is the password which is case sensitive so make sure your Caps lock is off. You can also refer back to the email we sent you with the password unless you changed it. 

You can use the Forgot password link, just make sure to give our server 5 minutes to update after you have reset your password.
After resetting your password, make sure to allow 5 minutes for the server to update your account before trying to login.
If you load into a disconnected state, please close the Anywhere tab and wait 5 minutes for the session to close. If you still see a black screen after 5 minutes elapses, please contact our support line to have them end the disconnected session.
Unfortunately, the left command button does not work when pasting into TXdocs. Please use the right command button+V to paste the contents of your clipboard into TXdocs. 

To copy text to your clipboard on your Mac, you can use the left command button+C as well as the right command button+C.
Installation of Classic (Desktop version)
Because you did not finish the assembly, the document has not yet been created. To complete assembly click on Assemble New Documents, choose the same client and case you wish to finish assembly for and then make sure to choose the document you were working on. 

If you saved your answers then everything you previously entered in will populate the document and you will just need to answer the remaining questions.
See our helpful video to learn more.
Yes, with TXdocs open, click on Document Assembly and then choose Find a Form and you can browse through all available documents and practice areas. Those with active subscriptions (not available for free trials) can also download an unedited document under Find a Form by clicking the View the Selected Template button and then hitting Print.
Yes, go to the Document Assembly menu option and then select Format Wizard. This will allow you to change the styles, justifications, font, and margin spacing of your forms. You can set the styling defaults for pleadings & orders, agreements & contracts and letters. You can also set styling defaults for individual forms.
Check Task manager, go to the Details tab and locate either TXdocs.exe or TXdocsPlus.exe and end task for each instance running. After doing so, try and start the program again.
Yes, by exporting a single client and case. Access the Edit menu and then, select the case and choose the appropriate options. After exporting, click on the link to access the physical file. Copy the export folder to your portable media. 

Once you have reached your PC at home once again access the Edit menu but this time select "Import single client and single case". Access the export folder you copied to your portable media and then click Import. 

You will have all of the answers and documents created for this client in TXdocs on your home PC.
Note: You will need to repeat this process to get the updated client/case information back onto your office PC.
Under these circumstances TXdocs Anywhere would best suit you. Your data is accessible from any PC with an internet connection and you access it through a web browser, so no need to install anything on your PCs. All of your data is stored in a central location and backed up daily which will prevent loss of data in the event your PC crashes.
Your setting in TXdocs informs TXdocs which word processor you plan to use so the documents are formatted accordingly. In this case, the file association on your PC needs to be changed by following these steps: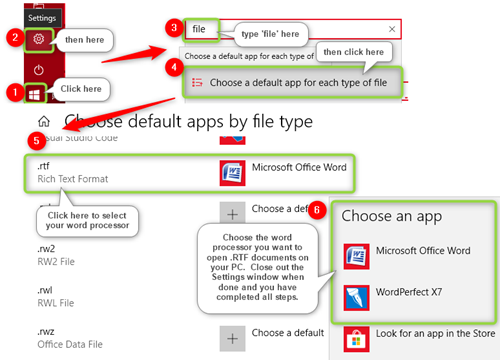 Yes, you can import both your clients and cases from Firm Central and ProDoc. Please be aware importing the data requires a current license from one of these companies. To import the data, simply select the Setup menu in TXdocs and choose the option "Import Prodoc data" or "Import Firm Central data". The import window lists instructions on how to export the data from Prodoc or Firm Central, as well as guides you through the import. 
If you have an export CSV files (Contacts.csv and Matters.csv) from a program outside of TXdocs, you can upload the files and contact our support department at 210-253-9506 to import. To upload, drag and drop the files onto TXdocs' home page. Once the files are uploaded select the Client documents folder.
Yes, open the Billing manager and drag your client's case over to Account Details and click on the Statements tab. Click on the statement and then select Undo statement. Next, click on the Individual/Consolidated statement tab and you'll see the statement has been undone.
Open the Billing manager and drag your clients case over to Account Details and click on the Statements tab. Click on the statement and then click the View/Print button to open the file and then print the statement.
Open the Billing manager and drag the client's case in question and drop it on the Individual statement tab and then Right click on the particular item you wish to change and select the Edit option. Make the necessary changes and then click OK to save the changes.
Have questions?
Call Us
(210) 253-9506
Mon-Fri 8 am-5 pm CST