Texas Family Law Practice Manual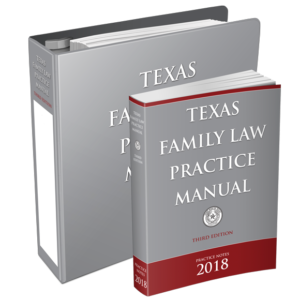 The Texas Bar's Family Law Practice Manual is a popular resource for family law attorneys. If you prefer to use the bar's family law forms instead of TXdocs' family law volume, you can now import your copy of the bar's manual and forms into TXdocs to use our software to generate those forms and to view the manual. 
If you want to use the bar forms but don't own a copy of this manual, we'll help cover your cost of purchasing or updating it. (see details below)
NOTE: TXdocs is not associated with the Texas Bar. We cannot sell or distribute their materials and we do not receive anything from the Bar in exchange for this promotion.


You need the digital version of the 2018 manual. If you need to purchase or update the manual, we will credit you with up to $600 of that cost. See the details below. Click here to see the bar's web page that describes how to purchase or update. (NOTE: You will need to purchase one of the "digital download" versions listed on that page.)
TXdocs provides a utility you use to import your bar forms. After that, you will be able to assemble your bar forms just like you assemble TXdocs forms.
The extensive practice notes in the Bar's manual are a fantastic resource. TXdocs provides a simple and convenient window to open and view your pdf version of the manual.

The details of our offer
The cost of the digital version of the manual is a little less than $600 and the cost of the digital and printed versions together is a little more than $600. The cost of updating the manual to the 2018 version depends on how long it has been since you updated. TXdocs will credit you up to $600 toward the cost of purchasing or updating the Texas Family Law Practice Manual. The credit will be applied over 24 months to the subscription price for TXdocs' Standard Package or TXdocs Complete Practice System. This offer does not apply to a subscription for only one practice area or for a per-case subscription. Your receipt showing that you purchased or updated your manual after August 1, 2018 must be sent to TXdocs at service@txdocs.com to obtain this credit.
Have questions?
Call Us
(210) 253-9506
Mon-Fri 8 am-5 pm CST
Prefer to make an informed decision? We're happy to oblige!
Free Trial
Take advantage of our fully functional 14-day free trial.
Access to all program functionality.

Training and technical support services included.

Preserve data when converting your trial to a subscription.

No payment information required until you're ready to subscribe.